New voyage for OC Pepel and Pingshun 01
Date:2017-09-25 11:21:22

After one year iron ore transshipment service for Shan Steel Group (SL) Mine Limited, OC Pepel totally complete 98 transshipment voyages and total 223,000 tons iron ore cargo, OC Pepel was awarded the best transshipment vessel and will get maintenance and clean in Northern Europe.

Since September 2016, the 30,000 DWT self-unloading bulk carrier M/V OC Pepel has started to provide transshipment services for the Sierra Leone project of Shan Steel Group which is one of the key project of "One Belt And One Road". During the service period, Ocean Challenger, ship manager and the crew insists on ONE mode - "Optimization Never Ending", overcome strong surge, wet goods, bad weather condition and other difficulties, finished 98 transit voyage and transport iron ore 2.23 million tons. It is rated as the best transfer ship with the highest transport efficiency and the strongest sense of cooperation by Shan Steel PMT.

Due to the ship's anti-fouling paint reaching the design life, the iron ore cargo destroyed the hull seriously, as well as preparing for the new charter, after approval, OC decides to arrange M/V OC Pepel to the REMONTOWA shipyard Poland for repair and maintenance.

The main contents of the maintenance include: bottom clean, shot-blasting and painting of hulls, bottom and all cargo holds, cleaning and maintenance of deck equipment and quarters. In addition, Emergency/fire procedure and PSC self-inspection and rectification were organized and performed according to the rules and procedures.
The "SPA" not only refreshed the ship's condition, but also made the first thorough maintenance of the cargo hold, and enhanced the crew's understanding of the ship and various operating procedures. It lays the foundation for the safety, compliance, efficiency and economic operation of M/V OC Pepel from both soft and hard aspects.
On September 25, M/V OC Pepel will depart from the REMONTOWA shipyard in Poland for a new voyage in the northern European sea, where it will carry iron ore, limestone and olivine.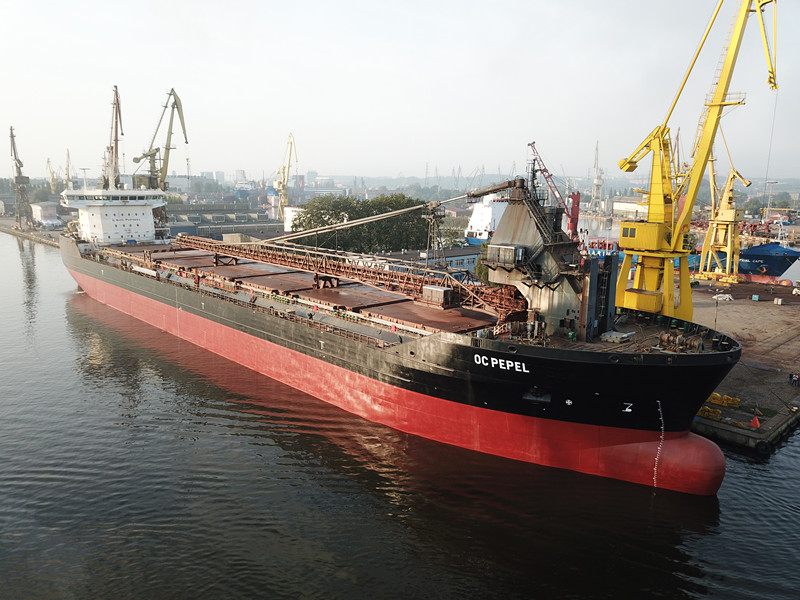 On August 4, 2017, Pingshun "01" departed from Yantai CIMC RAFFLES wharf to Zhoushan for adaptive modification, and completed all modification work before August 26, including winch functional recovery, solar light change, deck rust removal and paint, mooring rope change, hatch cover joint and screw replacement etc, and will set sail to ShenZhen.
On September 4, 2017, Pingshun 01 arrived at Shenzhen port.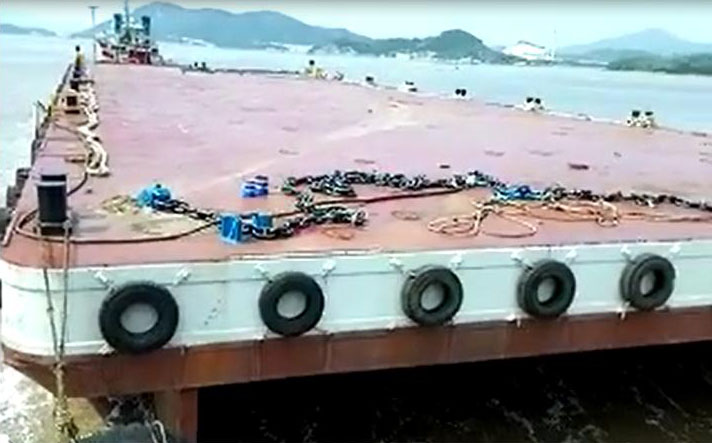 After that, OC work together with Charterer to complete the technical data and qualification certificate mainly includes: the longitudinal strength & stability calculation, national certificate renewal, change of international routes and insurance, customs supervision book, the international maritime transport ship registration certificate, etc.
On September 20, 2017, pingshun 01 formally started steel structure lifting and loading, total 6 steel structures weighted 1665mt will be shipment this time, and is expected to be completed on September 25th set sail for ABU dhabi on September 28th and will complete all marine transportation work by Apr.2018.