CIMC Secures Contract for 400-ft Jackup Drilling Rig in Middle East
Date:2022-06-10 18:56:00

Ocean Challenger, the asset management company of CIMC, has recently entered into a charter contract with Saipem, for a 400-ft jackup drilling rig. The rig is scheduled to be deployed to the Middle East by August for modifications. After that, the rig will execute the drilling contract for Saudi Aramco by the end of 2022.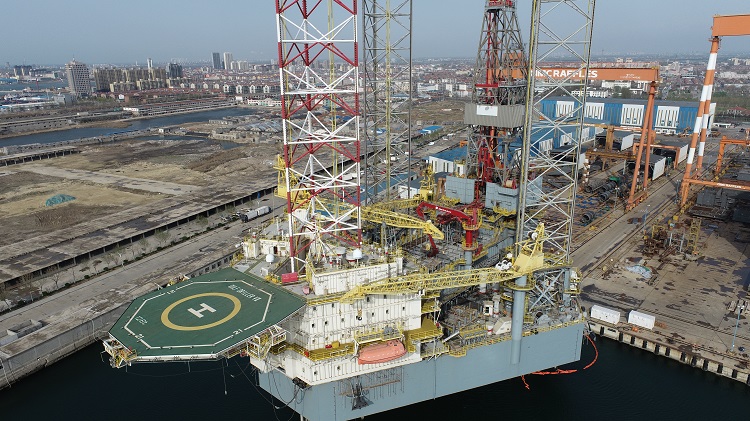 The Rig, formerly known as Gulf Driller VII, will be renamed as PERRO NEGRO 11. Equipped with MH Wirth drilling equipment, the rig is 70 meters long, 76 meters wide and the total length of the trussed leg is 167 meters with maximum operational water depth of 120 meters. The maximum drilling depth could reach to 10,668 meters. The rig has ABS Class, and suits for drilling operations in most harsh environment waters worldwide.
Saipem, a reputable Italian offshore contractor founded in 1957, expanded its business into offshore operations since the 1960s with operations in more than 60 countries. In the past years, Saipem has secured several drilling contracts in the Middle East especially in Saudi Arabia. With the contract for PERRO NEGRO 11, Saipem has added another high specification jackup to its fleet.
CIMC Raffles is a leading offshore EPC contractor located in Yantai, China. Its main products include semi-submersible rigs, jackup rigs, wind farm installation vessels, offshore supporting vessels and luxury yachts. The products cover the world's major offshore areas including the South China Sea, Gulf of Mexico, North Sea, Brazil and the Middle East. The business line covers R&D, manufacturing, operation services and financial services. With the advanced capacity of engineering and construction, CIMC Raffles has become a major supplier in the offshore industry. CIMC Raffles has a long history cooperating with Saipem on several offshore projects. The signing of the contract for PERRO NEGRO 11 enhances the long-term relationship between CIMC and Saipem, by which CIMC Raffles will continue to provide customized and value-added services to the clients.
CIMC with its asset management companies are currently providing global operations and management of offshore assets with established offices in China, Singapore, the Netherlands and Norway, etc. The fleet consists of more than 10 semi-submersibles and jackups. In the traditional oil and gas sector, it provides services to Neptune Energy, Pemex, Petrobras, CNOOC, creating new milestone several times.
It is worth mentioning that the other two sister rigs, named Gulf Driller VI and Gulf Driller VIII, were delivered and started drilling operation in Mexico since 2019, making now the 400-ft jackups 100% utilization. In the green energy sector, CIMC participated in the two phases explorations of nature gas hydrate, creating a world record, and has actively engaged in the field of wind power filed to provide state-of-the-art equipment.