Naming and Departure of CIMC 400-ft Jackup Drilling Rig
Date:2022-07-11 13:19:07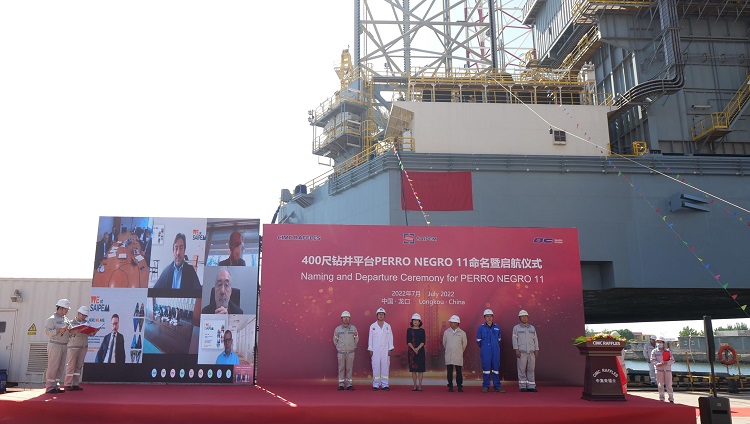 On July 8, 2022, the naming and departure ceremony of PERRO NEGRO 11, a 400-ft jackup drilling rig based on the F&G 2000E design and built by CIMC Raffles, was held in its Longkou construction base. Customer representatives and guests from the Middle East and Italy attended the event via video link with Longkou site. Ms. Wang Jinghua, a member of the Executive Committee of CIMC Group, christened the rig.
After the completion of some preparation works, the rig will be deployed by Saipem in the Middle East for drilling operations towards the end of 2022 – early 2023 for a multiple years contract.
Mr. Li Minggao, Vice President of CIMC Raffles, and Mr. Marco Toninelli, Asset Based Services Chief Operating Officer, thanked the operating teams of CIMC Raffles and of Saipem for the successful achievement and management of the difficulties due to COVID-19 such as slowdown in the logistics and travel restrictions.

Mr. Wang Jianzhong, CEO & President of CIMC Raffles and Mr. Alessandro Puliti, General Manager of Saipem took the opportunity of this event to sign a strategic cooperation agreement via video link, announcing the joint efforts in exploring new opportunities in the offshore drilling and in further business segments such as offshore construction and new energy.
CIMC Raffles is a leading offshore EPC contractor located in Yantai, China. Its main products include semi-submersible rigs, jackup rigs, wind farm installation vessels, offshore supporting vessels and luxury yachts. The products cover the world's major offshore areas including the South China Sea, Gulf of Mexico, North Sea, Brazil and the Middle East. The business line covers R&D, manufacturing, operation services and financial services. With the advanced capacity of engineering and construction, CIMC Raffles has become a major supplier in the offshore industry.
Ocean Challenger, the asset management company of CIMC established in 2010 with offices in China, Singapore, the Netherlands and Norway, relying on the international platform of CIMC, adhering to the value of customer orientation, has successfully delivered, disposed and managed more than 20 offshore assets. In the traditional oil and gas sector, it provides services to Neptune Energy, Pemex, Petrobras, CNOOC, creating new milestone several times. In the green energy sector, CIMC participated in the two phases explorations of nature gas hydrate, creating a world record, and has actively engaged in the field of wind power field to provide state-of-the-art equipment.
Saipem is an advanced technological and engineering platform for the design, construction and operation of safe and sustainable complex infrastructure and plants. Saipem has always been oriented towards technological innovation and is currently committed, alongside its clients, on the frontline of energy transition with increasingly digitalised tools, technologies and processes that were devised from the outset with environmental sustainability in mind. It is listed on the Milan stock exchange and operates in 70 countries around the world with 32 thousand employees from 130 different nationalities.