Naming and Departure for Perro Negro 12, a CIMC 300 feet Drilling Jack Up Rig
Date:2023-03-06 12:33:40

At the end of February 2023, the naming and departure ceremony of the 300 feet Drilling Jack Up Rig "PERRO NEGRO 12" (hereinafter referred to as PN12), which was managed by Ocean Challenger, an Offshore Asset Management Company affiliated to CIMC group, was held at the CIMC Raffles shipyard. Site team of Saipem, Representatives of ABS Classification Society, CIMC Raffles Project Team, CIMC Offshore Assets Team and other parties attended the ceremony. Ms. Chiara Perotti, Project Manager of Saipem named the rig.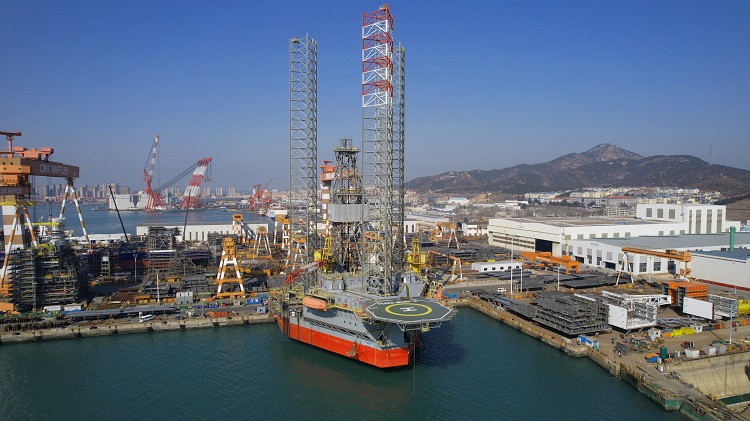 PN 12 is of the world reowned FNG SUPER M2 design and is capable of operating in a water depth of 300 feet and able to drill to a depth of 30,000 feet. PN12 is one of the greatest achiever among the CIMC 300 feet Gulf Driller Rigs Series. After departure in early March, PN12 will complete its upgrading works in the Middle East, where after will start its drilling and workover operations for Saudi Aramco.
PN12 marks the continuation of another successfully cooperation between Saipem and CIMC Asset Management Company/Ocean Challenger after a previous collaboration on "PERRO NEGRO 11" (hereinafter referred to as PN11) over last July 2022, whereby both parties once again joined hands to overcome all challenges during the project execution phrases at different work areas and time zones.
With the current boom at the Oil & Gas industry, there are great opportunities for enhanced strategic cooperation between CIMC and Saipem. "PERRO NEGRO 12"shall be the new platform for both CIMC and Saipem to deepen the relationship and cooperation for a capitalized advantage in the market. CIMC and Saipem has a long history of cooperation which can be traced back to remarkable projects such as Scarabeo 9, Castorone, Perro Negro 11 and now Perro Negro 12. Both CIMC and Saipem will uphold and consolidate a strong partnership to embrace all future business opportunities together.
Ocean Challenger, an Offshore Asset Management Company affiliated to CIMC Group, was established in 2010 and have offices in China, Singapore, the Netherlands and Norway. Inculcated with a global mindset from CIMC Group, Ocean Challenger has been a solution provider to our international customers, and has successfully delivered, managed and operated more than 20 offshore assets worldwide.
Saipem is an advanced technological and engineering platform for the design, construction and operation of safe and sustainable complex infrastructure and plants. Saipem has always been oriented towards technological innovation and is currently committed, alongside its clients, on the frontline of energy transition with increasingly digitalised tools, technologies and processes that were devised from the outset with environmental sustainability in mind.